Owl Investment Group went on an exciting trip to New York one Friday morning of November to check out some of the interesting investment firms on Wall Street.
We visited J.W. Bristol, a small asset management firm on the street. Two of the managing directors Bob and Kevin generously hosted us. We had a four-and-a-half-hour long meeting discussing how Bristol allocates its asset and their investment strategies. It was a great fun! We also learned about their general customer base, what it takes to invest in a particular stock and general time horizons, etc. We were genuinely impressed by their integrated qualitative as well as quantitative approach to each stock. Their ability to dig deep into each of the stocks in terms of field studies, interviewing, relentless due dilligence inspired us a lot as new beginners who are still trying to play around our 100,000 funds.
Here are two funny pictures we had  at lunch. We dined at a nice little Japanese place.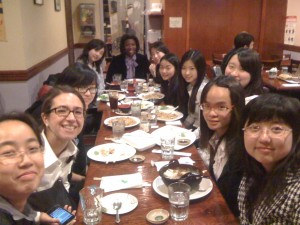 Here is a fun picture: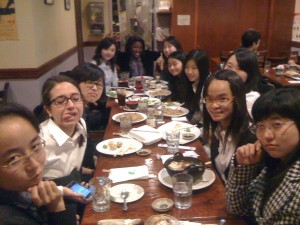 See how cool we are are…wait, you are missing me here because I was the "invisible one" taking the hilarious picture. John isn't in the picture because he was having a phone call with some investment bankers.
In the afternoon, we visited Morgan Stanley at 1 New York Plaza. We met with Ms. Leslie Knotts. She graduated about 10 years ago and had extensive work experience in UK, US and Hong Kong. She answered a lot of questions about how she got to MS and her experience abroad. It was exciting to see Bryn Mawr alumae like her who goes out into the world and blossom.
New York Trip one of OIG's annual event. If you are interested, just join us and be our member.