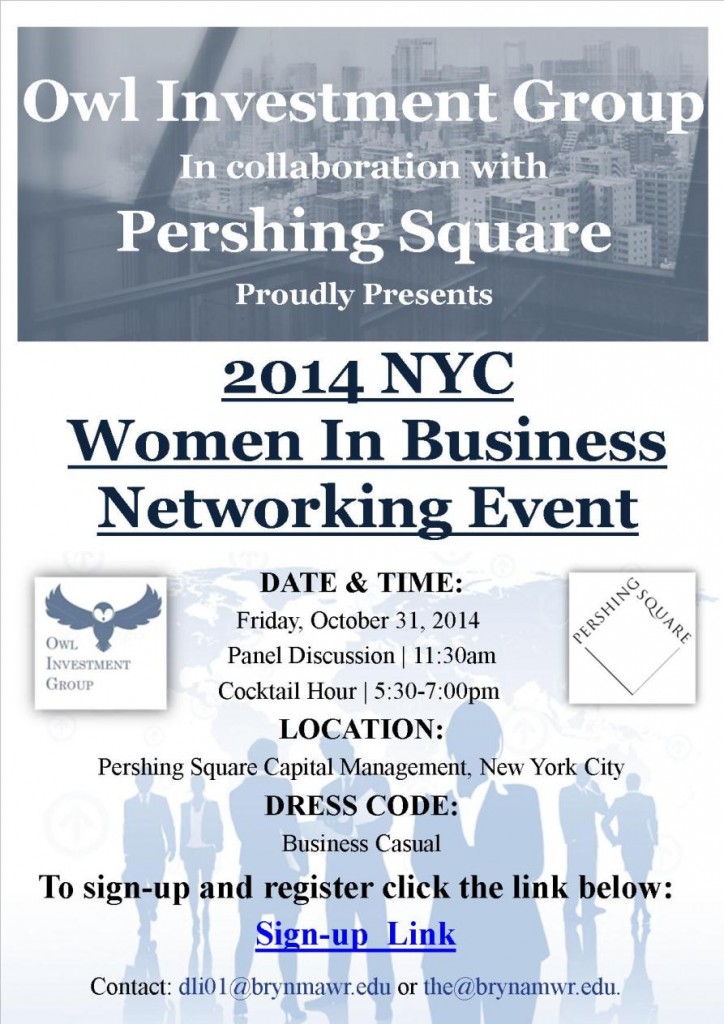 In collaboration with Pershing Square Capital Management,OIG is proudly presenting our 
2014 
NYC Women in Business Networking Event  
on 

Friday, 

October 31st

.

 We will have a f
irm visit to Pershing Square in New York City with invited businesswomen speakers (details are listed below), anda following cocktail event with alum Alexandra Kaufmann. This is a great opportunity to learn more about the finance industry and network with alumnae and career professionals!
Alexandra Kaufmann
 '04 – Investor Relations, Pershing Square
Ashling Keenan
 '04 – Point72
Nathalie Schallock
 – Hedge Fund Marketer
Jennifer Rusk
 '05 – SignPost
Ayesha Gopal
 '05 – RBC Equity Research
Sarah Judd Welch
 – Founder of Loyal
Marianne Bellotti 
– CTO & Founder of Thicket
Deepthi Welaratna – Founder of Thicket
Kristin Kraemer – Goldman Sachs Cap Intro
Mamta Jalan – Fund of Funds Analyst, Archstone
Wendy Li – Analyst, UJA Endowment
Lydia Thew – Senior Producer, CNBC
Marianne Bellotti – CTO & Founder of Exversion
Please SIGN UP using the following link: Sign up link. Deadline is October 22nd. Note that registration means your commitment to the event, and there will be a mandatory meeting next week for the attendees.